Toolmaking at Cahill Plastics
Cahill Plastics provides a full design and manufacture service for the production of its mould tools advising you on the most suitable mould construction methods.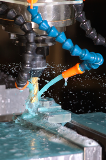 We operate high end 3D CAD packages and can accept data from most the major design platforms. The most common file format we receive is IGS
We can manufacture mould tools from various materials including High grade aluminium alloy P20 steel and hardenened steel
All tooling can be trialled in-house and ISIR can be provided with samples.
Aluminium Alloy Tooling
The aluminium used in our tools is a high-grade aluminium alloy which is easier and quicker to machine and polish than steel keeping the manufacturing costs and lead times to a minimum
Typical lead times for aluminium tools depending on complexity are between 1-6 weeks
A well maintained aluminiium tool can last for over 100'000 shots(depending on polymer)before needing any kind of refurbishment
P20 Pre Toughened steel Tooling
P20 is a pre hardened high tensile tool steel in a hardened and tempered condition, therefore does not require further heat treatment ,this eliminates the risks, cost, and waiting time of heat treatment thus avoiding the associated possibility of distortion or even cracking. Subsequent component modifications can easily be carried out.
Typical lead times for P20 tools depending on complexity are between 4-12 weeks
P20 tools can last in excess of 500,000 shots.
Hardened Steel Tooling
Hardened steel mould tools are generally very durable and capable of millions of parts,
once hardened it is very dificult to modify , they are very costly compared to aluminium tooling and the manufacturing proccess can take weeks-months longer
Typical lead times for hardened steel tools depending on complexity are between 8-16 weeks