At Cahill Plastics we pride ourselves in using the latest technology and techniques together with over 30 years of experience in producing injection mould tooling and mouldings.
This winning formula has contributed in giving Cahill Plastics a competetive edge over it's rivals, delivering cost effective products with short lead times.
Product Design & Developement

3D CAD modeling service - We will breath life into your idea by producing computer generated 3D models
CNC machining of Prototypes - for development, and low volume production.
Stereolithography and other rapid prototyping
Aluminium Mould Tooling - cost effective with short lead times.
Hardened Steel Tooling - for larger production quantities
Rapid Tooling Inserts - for fast turn around prototypes
Product and Mould Tool Design service
Precision Engineering
Complimentary 1st off Sampling - Saving your time and money
We serve a varied range of industries Including. . . . . . . Electronics, Aerospace, Automotive, Medical, sports & Leisure and Point of Sale
Cahill Plastics mould shop currently comprises of 10 Injection moulding machines with computerised controls ranging from 25 to 250 ton , many with pick and place robotics attatched.
Other Services
Twin Shot Moulding - for 2 colour or 2 polymer components
Short Batch Runs - no quantity is to small
Various Finishing Techniques
Chrome Plating
Screen Printing
Hot Foil Blocking
Ultrasonic Welding
Assembly.
Contact us
Please contact us on the following
Tel +44 (0)116 2628242
sales email sales@cahillplastics.co.uk
General enquires info@cahillplastics.co.uk
Registered Address Northmills Industrial Estate , Frog island , leicester , LE35DH
Directions
Unfortunately our post code isn't SATNAV friendly.Use Bowmars Lane as a reference .
The Industrial estate is off the A50 Leicester
The turning to the industrial estate is opposite Bowmars Lane ,down the side of the canal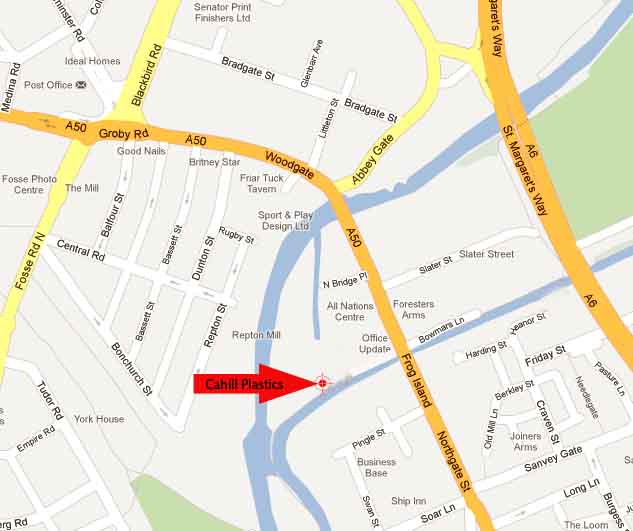 Updated onSept 2012